WTA
In the battle of the top two Italians it was 10th time lucky for Roberta Vinci who beat Sarah errani 63 36 63. This is the first time Vinci beaten her compatriot since the Brisbane International in 2010.
The past couple months has been some of the best months for Romania's Simona Halep who picked up her third title since June! She played surprised finalised Yvonne Meusburger (career high of 60 in 2007) who beateN the 4,5 and 6 seeds on route to the final. It was however the inform Halep who once again proved victorious winning 63 67(79) 61.
ATP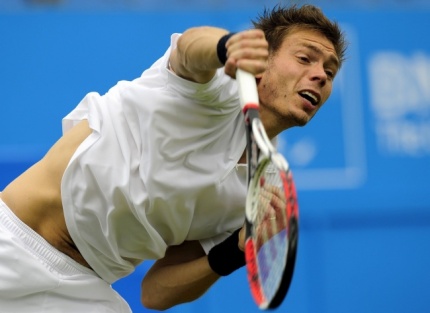 In a rain affected Newport this week is was the battle of the veterans with wild card Nicholas Mahut facing aussie Layton Hewitt. Mahut who is best know for competing in the longest match of all time, shocked Hewitt and edged him out in a tight 3 setter 57 75 63. This is only Mahuts second title ever (his first being just a couple weeks ago as well), Which is a bit surprising as Mahut has been as high as 40 before (feb 2008).
There was also joy for Italian tennis in the mens tour this week as well as the women's with Fabio Fognini picking up his first tour title. Fognini beated top seed Tommy has on the way to the final (QF's - 62 64) and faced another home favourite Phillip Kohlschreiber. The Italian edged the German out 57 64 64.
Like Newport is was another unseeded who was triumphant. Carlos Berlocq (CH 37,march 2012) who only played one seeded player until the final (Zeballos,7) faced former top ten player Fernando Verdasco. Berlocq eased to his first title winning 75 61.
ATP Challengers
$75,000 Beijing – Lu Yen-hsun bt Go Soeda 62 64
$42,500 Istanbul – Benjamin Becker bt Dudi Sela 61 26 32 ret
Scheveningen $42,500 – Jesse Huta Galung bt Robin Hasse 63 67 64
$42,500 San Benedetto – Andrej Martin bt Joao Sousa 64 63
For ITF results go to http://www.itftennis.com/procircuit/tournaments/results-round-up.aspx