WTA southern Californian Open - Sam Stosur bt Victoria Azarenka 62 63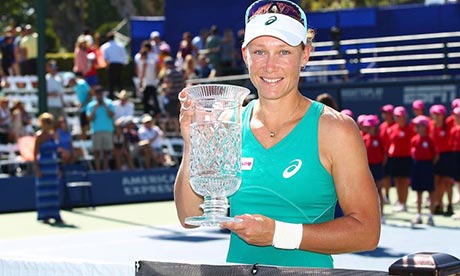 With Azarenka winning 8 of their last 8 matches it was forgiveable to bet on Azarenka being the winner. However this wasn't to be the case. After her disappointing second round defeat last week in Stanford, Stosur played a great week and eased to a comfortable 62 63 win over the mighty Belarussian. This win is a massive confidence boost for Stosur who hasn't won a singles title since the 2011 US open. Quoting tsn.ca she said ""I haven't had great results for really all year, so to be able to bounce back and come away with this is really exciting and a good boost going into the last slam of the year."
WTA Citi Open, Washington -Magdaléna Rybáriková bt Andrea Petkovic 64 76
There is something about the Citi Open that just results in Rybáriková producing some of her best tennis. The defending champion defeated top seed Angelique Kerber in the quarterfinals (76 36 63) followed by a semi final win over third seed Makarova (62 60). In the final Rybáriková faced unseeded German Andrea Petkovic who beated sixth seed and fellow countrywomen Mona Barthel 62 62 in the second round as wel as forth seed cornet in the semi final. The final was a close two setter but the defending champion proved triumphant again winning 64 76 and giving Rybáriková her 4th WTA singles title.
ATP Citi open, Washington Del Potro bt Jogn Isner 36 61 62
At the Washington ATP tour 500 event it was a showdown between Wimbledon Semi finalist Juan Martin Del Potro and American home favourite John Isner. On his way to the Final Del Potro didn't drop a single set compared to Isners two. In the quarter final Del Potro defeated South African seventh seed Kevin Anderson 76 63 followed by a semi final win over German veteran and third seed Tommy Haas with the exact same score. On the other hand John Isner experience a rougher route towards the final. Isner defeated

Marcos Baghdatis in the quarter finals in a close three setter 67 64 64 followed by another close match in the semis against Tursanov which isner won 67 63 64. In their past three matches Del Potro has won all of them and havnt even dropped a set againt Isner. In the final Isner finally ended his consecutive sets losing to Del Potro by taking the first set 63. However this still wasn't enough and the inform argentenian regained focus and won it in three sets 36 61 62.
ATP Bet-at-home Tournment, Austria - Granollers bt Monaco 06 76 64
With the US open being so close now it is undewrstandable to forget that there are still tournments going on in Europe. In Austria at the BET-at-home tournment the final was between spains Marcel Granollers (8) and Agrentinas Juan Monaco (2). Granollers was the winner at the clay court tournment winning 06 76 64. The is Granollers first title since November 2011 and the forth in his career.