In a match which many people expected to be the blockbuster match of day 8 at the Austrailian Open. Rodger Federer treated viewers to some of the best tennis he has produced in a fair while against the mighty Frenchman Jo Wilfried-Tsonga. Going in to the match, many people including myself was expecting a close five set match but Federer had other ideas. Throughout the entire match Federer's serve was imperative with his serve never being broken and Tsonga could only manage to reach one break point in Federer's service games. Everything just seem to go Federer's way today with the 17 times Grand Slam winner producing the following statistics:-
57% first serve in (48/84) – of which he won 88% of them

Of the 172 points played in the match, Federer won 100 of them (58%)
This was a great match for Federer and reaffirms to his critics that he is still a big threat in the Grand slams. Overall from a viewers perspective it was a delight to see Federer play like this after his mixed season last year. I just wonder how much of an affect Stefan Edberg has already had on the former number 1.
Many people will be extremely thrilled with Federer's performance today however it will be more of a worry for the Murray camp. Andy Murray beat lucky loser Stephane Robert earlier on. Like Murray's match against Vincent Millot he did suffer a blip during the match. Leading with ease 61 62, he was pushed hard in the third set by Robert in which the French world 119 won a close tie-break (8-6). Fortunately Murray was able to regain his form in the second set to take the match. The final scoreline was 61 62 67 62. The match Statistics are as followed:-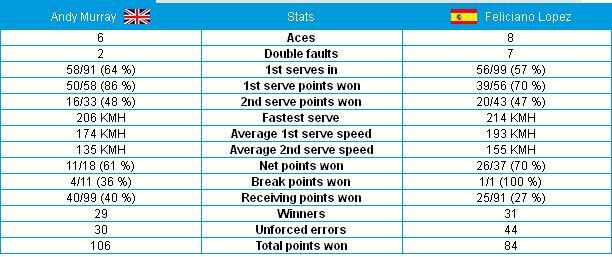 The other Quarter-final decided today will be Rafael Nadal against youngster Grigor Dimitrov. Nadal moved in to his 7th Australian Open quarters after three close sets against Kei Nishikori. It definitely was a harder match for Nadal who needed 3 hours and 17 minuets to beat Nishikori to make it his longest match in the tournament so far. Statistically in the match both players had the same amount of winners (36) but Nishikori error count was significantly higher (51-28). In addition to this Nadal's serve was extremely strong with 12 aces, 71% first serves in and only 1 double fault. Meanwhile Grigor Dimitrov became the first Bulgarian man to reach the quarter finals of a Grand Slam in history after his 6-3 3-6 6-2 6-4 win over surprise package Roberto Bautista Agut. One thing Dimitrov will need to work on before his showdown with Nadal will be his error count. In his 4th round win, the rising star produced 38 winners which was nearly wiped out with 34 unforced errors. Head to head Nadal leads 3-0 going in to Wednesdays match but every meet has gone to three sets so Nadal should expect to endure close games.
My prediction for these two quarter finals is that Nadal will win 3 sets to one over Dimitrov. On the other hand taking into account that Murray is still coming back from back surgery, I will have to say Federer is a more likely winner. Especially if he reproduces the form he displayed against Tsonga. For the scoreline, I reckon it will also be 3 sets to one in Federer's favour but in a far more closer match.