Stanislas Wawrinka completed his dream run at the Australian Open after a four set's win against an injured Rafael Nadal. In the first set Wawrinka surged to a early lead with no visible nerves. Producing blistering forehands and backhands. Nadal had no answer to a adrenaline filled Wawrinka. In only 37 minuets Wawrinka shocked Nadal and the crowd to take the first set with ease at 63. To put this in to number's Wawrinka produced 12 winners, 100% netpoint's won (5/5) and 8 unforced error's. The first set was clearly all about Wawrinka.
Fresh from a set up Wawrinka broke immediately to take a firm grip on the entire match. Then early in the second set the unexpected happened. Trailing 1-2 down in the second set. Nadal abruptly stopped after a point with his hand automatically going on his lower back. His team and the crowd glared with worry as the world number one went off court after that game to seek immediate medical treatment. Whilst Nadal was seeking treatment Wawrinka was clearly getting frustrated that he wasn't being informed about what Nadal's injury was. To the relief of the organisers Nadal did return and continued to play on. It was clear he had back trouble with his movement and serving speed dramatically reducing. Wawrinka took advantage of this to take it 62 and move to just one set away from his first ever Grand Slam title.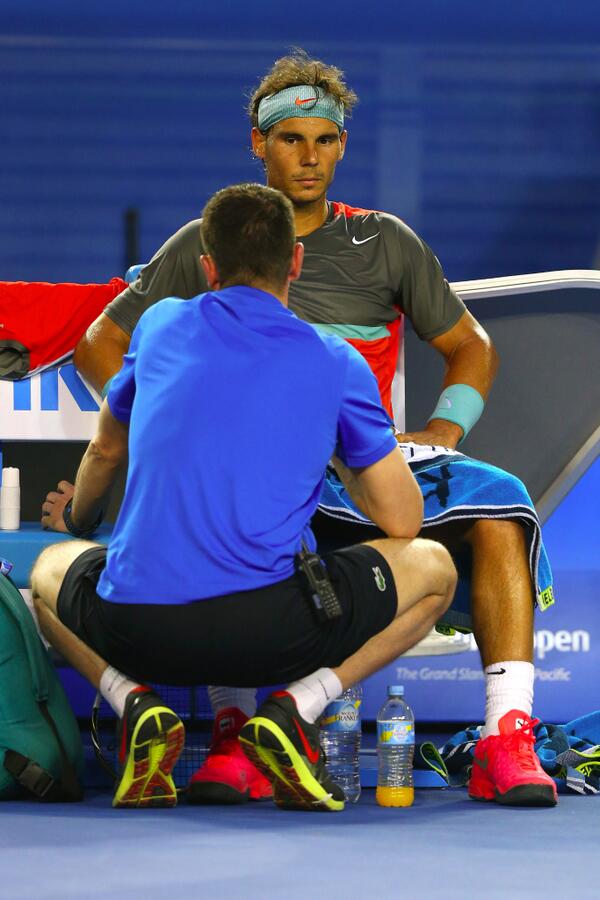 There was however to be a twist in the third set. Wawrinka who was visibly aware of Nadal's injury seemed to get himself lost under the unpredictable circumstances. The Swiss lost his serve and failed to barely get a shot within the court. In the first three games of this set alone he produced 10 unforced errors. Nadal's pain killers appeared to be slightly working as he moved around the court with more ease and his fastest serves average compared to the second set increased. Clearly the occasion was starting to get to Wawrinka who lost the set 36. Credit must however be given to Nadal who fought hard and refused to give up despite his back trouble. This was definitely the actions of a true champion.
Wawrinka managed to regroup himself in the forth set to break Nadal 4-2 to be just two games away from the trophy. This was short lived after a poor service game gave Nadal an immediate break back. There was clearly a pattern forming when yet another break occurred to give Wawrinka another lead but this time it was to serve for the championship. He then never looked back by producing a solid service game to take the title and become only the second Swiss male player ever to win a Grand Slam (everybody knows who the first is).
Despite Nadal's injury there should be nothing taken away from Wawrinka. Throughout the tournament he has battled his way past players thanks to some incredible forehands and backhands. At his 36th Grand Slam I couldn't think of many other players ranked outside the top six the truly deserved this title.
In Nadal's runner up speech. The clearly emotional world number one said:-
"It's been an emotional two weeks. I'm sorry to finish this way, I tried very hard,"
Meanwhile the champion Wawrinka entire accpetance sppech was the following:-
"I'm sorry for you, Rafa. You're a great friend and an amazing champion. It's always a pleasure to play against you. Well done on your comeback.
"Last year I had a crazy match, I lost it and I was crying a lot but in one year a lot has happened. Right now, I still don't know if I'm dreaming or not, but we'll see tomorrow morning.
"I would like to congratulate my team. Thank you Magnus [Norman], we've only been working for one year, and Seve. I'm really happy you are here tonight. We will try to enjoy tonight. Also thank you to my manager and parents and many friends who are here."
Stanislas Wawrinka will now be the world number three and for the first time in over a decade

Rodger Federer will no longer be the Swiss number one.
Match stat's