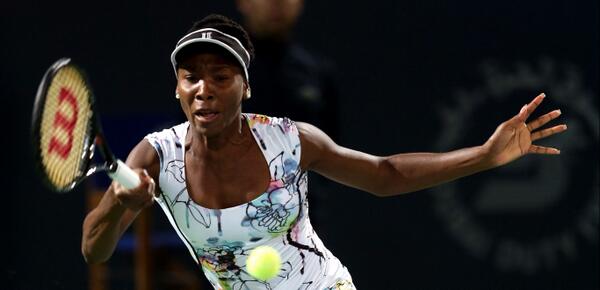 Alize Cornet's dream week at the Dubai Duty Free Tennis Championships came to a abrupt end after being outplayed by a dominant Venus Williams in the final. Cornet caused a huge shock yesterday after her unexpected 64 64 win over world number 1 Serena Williams. Going in to the match Cornet was aiming to be only the 8th tennis player in history to beat the Williams sisters in the same tournament but Venus had other ideas.
In the first set it was Cornet who was the first to strike by breaking Williams in her second service game. Throughout the set both players was producing stunning tennis but the former world number 1 was too strong. After being broken Williams immediately broke back to level the set before charging to a 5-2 lead. It was clear how much it meant to Cornet when she had a mini emotional break down during one change of ends while she was talking with her coach. Williams on the other hand used her 9 extra years of experience compared to Cornet to remain composed and take the first set 63. Williams winners-losers ratio was 12-11 compared to Cornet's 4-15.
In the second set it was all about the seven times Grand Slam champion. Despite the glimmers of tennis brilliance from Cornet it was no match against Williams solid game in which she didn't drop a single game. This was one of the best performances that Venus Williams has shown on court for a while and a reminder to the tour about how much of a threat to the top players she can be. Despite the 63 60 scoreline the match did at times seemed a lot closer than that with Cornet matching Williams games throughout but lacked the consistency.
Williams was only able to compete in the tournament thanks to a wildcard as her current ranking isn't high enough to give her direct entry into the main draw. This is now Williams third title in Dubai and 45th singles title. The match summary is below (source BT Sport) :-