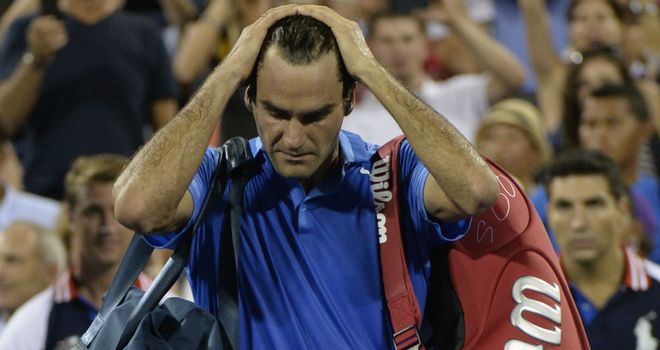 Many people was eagerly awaiting and hoping for the quarter final showdown between Nadal and Federer however it is now not to be the case thanks to Tommy Robredos shock straight sets victory over Federer last night. At a rain affected US Open last night the statistics really told it all. The Swiss tennis great converted only 2/16 break points as well as a disappointing 43 unforced errors (20 of which was forehand errors!). The only comforting statistic Federer can take from the match is that he did produce 45 winners against Robredos 31. With a lot of journalists who watched the game saying it appeared the Federer self destructed during the match it again adds to the run of disappointing form that Federer has encountered recently with some being explained by a back injury Federer has been coping with. Robredo won it 76 63 64 to make his first quarter final at the US Open. After the match Federer said quoting BBC sport:-
"I kind of self destructed, which is very disappointing, especially on a quicker court. Your serve helps you out. You're going to make the difference somewhere. I just couldn't do it. It was a frustrating performance today."
"I've definitely got to go back to work and come back stronger, get rid of this loss now as quick as I can, forget about it, because that's not how I want to play from here on," he said.
"I want to play better. I know I can. I showed it the last few weeks, that there is that level, so today was pretty frustrating."
Robredo will still need to improve his game for his next match against a inform Nadal who battled to a four sets win over Germany's Kohlschriber. Nadal who has been unbeaten of hard courts this year so far came from 67 down to take it 64 63 61. Elsewhere yet another Spanish player made the quarter final. Forth seed Ferrer battled to a 76 36 75 76 in a much tougher match. The most dramatic match of the day was Richard Gasquets five set victory over Canada's Raonic. In the 4 hours and 40 minute epic Gasquet edged to a 67 76 26 76 75 to produce his best grand slam performance since Wimbledon 2007.
In the women's draw there was a disappointing loss for the ever so talented Simona Halep who was outplayed by Italy's Pennetta. Pennetta produced some impressive shots in the first set to race to take it 62. Halep did regain control in the second set and reached set point until the rain unkindly disrupted her and she had to go off court. The rain clearly upset Haleps Rhythm and when she return to court Pennetta broke to even the match again and then went on to win the tie break giving her the 62 76 victory. Pennetta will be joined in the quarter finals by countrywomen Vinci who ease past yet another Italian Camila Giorgi 64 62. Finally Daniela Hantuchova fought her way to the quarter finals with a win over American wildcard Alison Riske, winning 63 57 62. This is the first since Hantuchova reached the quarter final stage at Flushing Meadows since 2002.