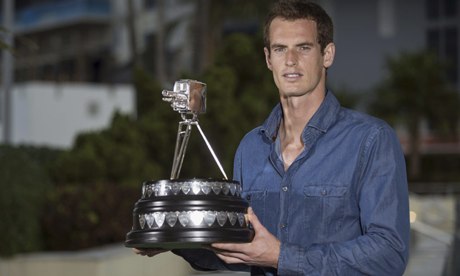 A lot of people predicted it and it came true when Andy Murray was crowned sports personality of the year last night. His memorable 2013 Wimbledon win amongst others gave him a impressive 401,407 votes (56%) which beat the others by miles (His nearest rival was Leigh Halfpenny who was still 335,557 votes behind). During the star studded show the audience had to wait to her from Murray at first as he was apparently taking a shower which lead to his mother Judy temporary covering him in a unexpected mini interview. Murray who is currently in the states for pre season training said to the BBC in his acceptance speech via satellite:-
"I'd like to thank all the public who voted, for giving me so much support over the last couple of years," said Murray. "It's made a huge difference."
"I've got a few people to thank - my family first. A lot are there in the crowd. They've supported me since I was a kid, making a lot of sacrifices for me. I couldn't have done it without you.
"My team are also all standing behind the camera here. They've been with me for a long time and I also couldn't have done it without them. Thank you to all of them."
Of the public, he added: "I know sometimes I'm not the easiest person to support but I've had a lot of pressure on me for a long time. I'm glad I managed to do it.
"No matter how excited I try to sound, my voice always sounds boring - that's just my voice. I'm sorry. I'm very excited right now. Thank you very much everyone."
This is now the eighth time a tennis player has made the top three of the awards with four of them winning the title. They were Ann Jones (69),Virginia Wade (77), Greg Rusedski (97) and now Murray. The ful video can be seen on here.