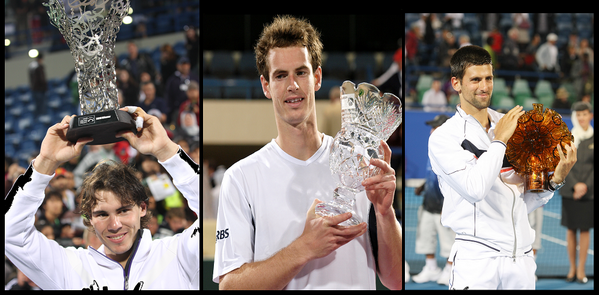 David Ferrer produced a shock for fellow countryman and world number one Rafael Nadal with a 64 64 win over him at the Dubai Exhibition to make his second final there. During the match both players produced magnificent shots and ralleys but Nadal lacked rhythm during parts of the match. Nadal had chances to break serve but was unable to take advantage of them but it wasn't such a problem for world number 3 Ferrer. This is the second time at the tournament Ferrer has beaten Nadal, the first was also at the semi finals stage in 2011.
In the final Ferrer will face Novak Djokovic who won 76 63 in a high quality match against Jo-wilfried Tsonga. In the first set Djokovic broke Tsonga but the feisty Frenchman produced four spectacular shots to level it back up resulting into a first set tie-break. Djokovic then up his game to win the tiebreak and then in a more easier fashion the second set. Djokovic will be looking to generate his third successive title at the tournament in tomorrows final.
Meanwhile in the 5th and 6th playoff Andy Murray managed to get his first victory since his surgery with a solid 63 64 win over Stanislas Wawrinka. This will obviously be a big confidence boost for the Wimbledon champion following his defeat yesterday to Jo-Wilfried Tsonga. After the match Murray said to bbcsport.co.uk:-
"It was good to get two matches against top players. Everyone needs matches at this stage, especially me. It's been a perfect start and hopefully I'll get better."
The first tournment of 2014 for Murray will be the Qatar Open which starts december 30th.